Best Shampoo for Bernedoodles in 2023 (Top 5 Picks)
Bernedoodle is undoubtedly one of the best designer breeds nowadays that is in high demand. If you have got a Bernedoodle puppy recently or already have an adult Bernedoodle dog and looking for the most suitable shampoo for your fur baby, you are in the right place.
As the Bernedoodle is a mixed breed, its coat is usually unpredictable. It may have a straight, wavy, or curly coat. Along with that, any dog may have different allergies and habits, and to tackle them you may need different types of shampoos. To prevent your dogs from unwanted health conditions, try to get your puppy from a reputable Bernedoodle breeder.
In this post, we are gonna review the 5 best shampoos for adult Bernedoodle dogs and one for your Bernedoodle puppy. If you don't already know, let us tell you that puppy shampoos are usually different from dog shampoos and you can check below about the difference between a dog and puppy shampoo.
Wondering how to choose the right shampoo for your lovely dog that doesn't irritate him or has a side effect on your fur baby? Read out the steps to choose the perfect shampoo for your dog below.
Related: Bernedoodle Puppy Starter Kit
How to choose the right shampoo for your dog?
It's really important if you want your pup to bathe peacefully and not give you a tough time. So, given below are some quick steps to perform before you select and buy shampoo for your fur babies.
Choose comfortable and healthy:
Lavender has a soothing fragrance but your dog may not like it. Likewise, there are many natural ingredients that your dog may not like or may be allergic to. So, try to get one that your dog prefers. Along with that, understand the coat and skin of your dog, and get the shampoo that suits his skin and coat. There are different shampoos for different coat types and you MUST get one that is suitable for your dog's coat.
Avoid chemicals:
Well, you can't avoid it but it is suggested to get a shampoo with a low amount of chemicals. Usually, the shampoo bottles or packaging has the full list of ingredients and you can read them out to ensure they are okay for your dog.
Check for approvals:
It is better to use a shampoo that is approved by the FDA. If the shampoos are not approved by the FDA, you should avoid them.
Ask your vet:
If your dog has some skin diseases or is allergic to some specific ingredients, ask your vet for a recommendation. They'll surely tell you what to use and what not?
We have chosen 5 different types of shampoos for different types of skins and coats so you can choose one as per your requirements. And the first on the list is the best dog shampoo for sensitive skin.
5 Best Shampoos for Bernedoodles in 2023
Before moving to the review section below, have a look at this table for a quick preview of the best shampoos.
| | | | |
| --- | --- | --- | --- |
| Product | How it looks | Rating | Purchase |
| For sensitive & itchy skin | | 4.4 out of 5 | |
| For thick coats | | 4.6 out of 5 | |
| For Ticks and Fleas | | 4.6 out of 5 | |
| For white coats | | 4.5 out of 5 | |
| Waterless Shampoo | | 4.4 out of 5 | |
Let's have a detailed review of the shampoos for your fur baby below.
Related: First Aid Kit for Dogs
Dog Shampoo with Shea Butter and Honey (Best for sensitive skin)
This shampoo contains some highest-quality ingredients such as shea butter, honey, and Beeswax. These ingredients work effectively to moisturize your dog's skin and bring a glow to it. It works as an instant reliever for irritated and itchy skin. If your Bernedoodle has highly sensitive skin, this shampoo is a must-use for you.
After the bath, it gives a pleasant smell to your dog's coat and its coat is restored. If your Bernedoodle's coat has been matted, tangled, or looking dry, bathe them with Burt's Bees Dog Shampoo, and you'll love the results as it gives a gleamy and original look to your dog's coat. As this shampoo is suitable for all types of coats, you can bathe any other breed of dog with it.
Plus point: It is a tearless shampoo so you can use it to bathe your puppies too.
Positive reviews about this Shampoo on Amazon
This shampoo is a LIFESAVER. My dog is allergic to everything but this shampoo and I tried 40 different shampoos, but only this one worked.
My dog is no longer itching.
My dog couldn't stop licking her and we switched to this shampoo. It worked like a champion.
TropiClean Perfect Fur Shampoo (For curly, wavy, and thick coats)
Hybrid dogs come with surprises and when we are talking about Bernedoodle, it is difficult to predict their coat. They can either have a straight, wavy, or curly coat. If your Bernedoodle has a curly or wavy coat, this all-in-one shampoo will work perfectly for him.
TropiClean Perfect Fur Shampoo smoothens the coat and helps remove mats and tangles easily. Its unique formula lets it absorb excess water and restores the original shape of the coat. It is made with natural ingredients and its sweet citrus fragrance feels refreshing and soothing.
Positive reviews about this shampoo on Amazon
Moisturizing
No need for a conditioner
Safe enough for pets
No harsh smell
Detangled the knots like a champion
Highly recommended for dogs with curly hair
Flea and Tick Protection Oatmeal Shampoo for Bernedoodles
Ticks and fleas are very harmful to dogs and to you too. In fact, these small parasites can lead to some serious health issues such as Lyme disease, Rocky Mountain spotted fever, tularemia, and several others. so, in such a case, you should consider bathing your dogs with an antiparasitic shampoo that works well against fleas, ticks, and other parasites.
This flea shampoo is best for dogs with sensitive and itchy skin. The active ingredient of this shampoo is oat while it has a soothing Hawaiian ginger fragrance. This shampoo by PetArmor Plus not only kills fleas and ticks but also conditions, deodorizes, and cleans your dog's skin.
Positive reviews about this Shampoo on Amazon
This shampoo has really helped our 4 large dogs in getting rid of ticks.
Immediately stopped my dog's itching.
My dog was chewing on herself but after using this shampoo she isn't chewing herself anymore.
Related: Goldendoodle puppy starter kit
Snow White Shampoo for Bernedoodles (Best for light-colored dogs)
Does your white or light-colored Bernedoodle dog love to splash in the mud? If yes, we are sure you are in dire need of this Shampoo because you need to restore the original colors of your dog's coat. Although Snow White Shampoo works well on white dogs and cats, you can use it on other colors too such as light grey, cream, light cream, etc. It eliminates the yellowish stains from your dog's coat, as well as, brings out the natural color.
You must be wondering about the ingredients of this shampoo. Well, it doesn't contain bleach or any harsh chemical, instead, it is made of green tea extract and vitamin E which helps the coat retain its original shining white color back. The bonus part of this shampoo is its long-lasting coral citrus fragrance that makes your dog smell good after the bath.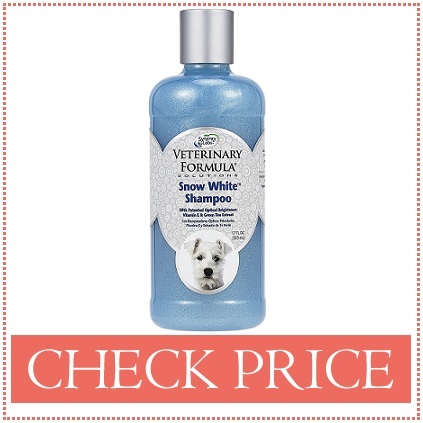 Positive reviews about this shampoo on Amazon
Tried many expensive and inexpensive shampoos but this one exceeded expectations.
This shampoo didn't upset my dog's allergies.
It seems our dog has become brighter and more white than it originally was.
Noticeable difference in the shine and whiteness.
A negative review may help you in deciding about it.
I had to apply the shampoo to my dog's fur and leave it for 5-7 minutes which is a difficult job though. My dog was shivering with cold and I couldn't wait for that.
No-rinse Soap-free Waterless Shampoo for Bernedoodles
If your dog does not like to be bathed and run away from the tub while you try to bathe him, you should try this waterless no-rinse shampoo. All you have to do is apply and rub the shampoo on your dog's fur, clean out the dirt, allow the shampoo to sit in your dog's fur for some time, and dry it with a towel.
This waterless shampoo is alcohol-free and has a refreshing smell of coconut. It works well on dry itchy skin while it is free of risk for dogs with allergies. It is no different from any other traditional shampoo and helps in detangling, and keeping the dog's coat moisturized and conditioned. The refreshing fragrance of coconut after the bathe is a bonus.
So, if you have a Bernedoodle dog that hates bathing, you can still keep him/her refreshing, shining, glowing, and healthy by using this waterless shampoo by the TropiClean Store.
Positive reviews on Amazon:
My pets always smell like coconuts.
Worked well on our cat who is very smelly and has dandruff.
No formations of any matting and eliminated dandruff and flakes after 2-week use.
Now, let's have a quick review of the best puppy shampoo for your Bernedoodle puppy below.
Why can't we use dog shampoo on puppies?
You got a baby shampoo for your real human baby, right? Why? because the shampoos we adults use are not meant to be used on children because they got sensitive skin. Secondly, adult shampoos irritate the eyes. Similarly, there are different types of shampoos for dogs and puppies.
Dog shampoos usually have strong chemicals, perfumes, and dyes that are not suitable for your sensitive puppy. For puppies, there are less irritative and tearless shampoos that work perfectly on them. Make sure you choose shampoos for your dogs that have natural ingredients. So, we looked at several shampoos to find the right shampoo for puppies, and luckily we got the best one. Check the best puppy shampoo below.
Bert's Bees Tearless Puppy Shampoo
This soothing and softening shampoo is an ideal match for not only your Bernedoodle puppy but all the other breeds' puppies. This tearless shampoo is made with high-quality ingredients such as honey, beeswax, and buttermilk. It does multiple jobs such as conditioning the puppy's skin, as well as, cleaning, soothing and softening it.
Bert's Bees Tearless Shampoo is a mild shampoo with a pH-balanced conditioner that is suitable for adult dogs too. Selected as Amazon's Choice shampoo, it has no harmful chemicals, fragrances, or colorants.
While checking the customer reviews, we found out that after bathing their dogs, their dogs came up with their natural smell. So, whether you have a single-coated pup or a double-coated dog, this shampoo works well with all types of coats.
What reviews say about this shampoo on Amazon?
It has no fragrance at all which makes it the best shampoo for a puppy.
Natural, safe, and effective product.
This shampoo gets the mud out of my dog's fur and brightens it up.
So, it was the best shampoo for your Bernedoodle puppy which we are sure you can use for any other breed's puppy.
Wrapping it up:
So, these were the top 5 shampoos for Bernedoodles and another one for your Bernedoodle puppy. If your dog has any type of allergies or health issues, it is better to take advice from your vet first.
Recommended read – Why do Dogs Sniff other Dogs' Butts?