Essential Groodle Goldendoodle Puppy Kit [Updated List]
If you have planned to get a Groodle puppy which is popularly known as Goldendoodle in the US and Canada and looking for the must-have products for Groodles or a puppy starter kit, you are at the right place. In this post, we are going to list the 9 best and must-have products that you'll be needing while raising your puppy. But before the products, let's have a quick overview of the Groodles a.k.a Goldendoodles.
Groodle is a cross between the Golden Retriever and Poodle. It was intentionally bred by Monica Dickens. It is a hypoallergenic, friendly, loving, and highly-intelligent dog. These days, Groodle is one of the most popular hybrid breeds in Australia, the US, Canada, and the UK.
While raising your puppy, whatever the breed you have, you must remember that it needs more care, attention, and love just like a real human puppy. Ignoring such things may result in an adult dog with bad health and bad behavior. That is why the vets suggest to groom them regularly, as well as, keep all the necessary puppy supplies before your puppy arrives.
Another point to remember here is that you must also have a first aid kit for your dog for emergency and accidental occasions. You never know when your puppy ingests something toxic or meet an accident.
So, without further ado, let's find the best products for a Groodle puppy which you must have in order to raise your puppy the way it is recommended.
Related: Bernedoodle Puppy Essential Kit
Best Groodle or Goldendoodle Puppy Products Essential Kit
Puppy Starter Kit
Whenever you get a puppy or a dog, make sure you have the puppy starter kit. The puppy starter kit usually contains different necessary pet supplies such as grooming sets, toys, leashes, training supplies, and other accessories.
Why you should buy a full puppy kit instead of individual items? Because if you are a new dog-owner, you may not have an idea of what products you should purchase. But a starter kit usually has everything that your puppy may need.
After a deep research, we have found one of the best puppy starter kits that contain almost all the necessary items. This kit contains a puppy bowl, collar, grooming glove, towel, leash, soft toy, chew toy, a rope toy, and several other products.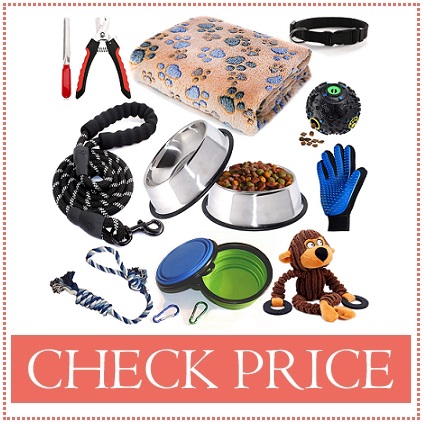 Portable Puppy Play Pen
Puppies and dogs always need someone to supervise them or take care of them or they may get bored and destructive. It is not difficult to give a couple of hours daily to your puppy but no one can give the whole day to their puppies as it is almost impossible. To address this issue, you should get a playpen for your puppy, most probably, the portable playpen.
What are the benefits of portable playpen? Well, there are many. You just leave your puppies in the playpen With their favorite toys and they'll spend hours in it. Still, keep an eye on them to avoid any disaster. Also, you can carry portable playpen anywhere such as the dog park or on a trip and you can keep them engaged and safe.
Given below is an expandable playpen along with the removable top and durable zippers. A variety of colors and sizes are available for small and large-sized dogs.
Puppy Pads
Although puppy pads are included in the starter kit, they would work for no more than a week. So, it is recommended to get a couple of packs of puppy pads.
What are puppy pads? Puppy pads are used to potty train them, as well as, to avoid any accident indoors. You can either go for the disposable puppy pads or the washable puppy pads. In our opinion, the washable puppy pads would be best as you won't be purchasing them again and again for a long time and you literally save hundreds of bucks.

Grooming Tools or Complete Grooming Kit
To keep your puppies and dogs clean, healthy, and good-looking, it is necessary to groom them once or twice a month, dependant on the requirements of breed and coat. Grooming of a puppy includes trimming the hair, clipping nails, brushing their teeth, and keeping their ears clean. So, it is recommended to keep a powerful and reliable grooming kit to keep your puppies clean and healthy.
The following pet grooming kit contains rechargeable trimmer, clippers, and other necessary tools. Plus, you can use this kit to groom other pets such as horses, cats, and other home pets.
Dog House
You are everything for your dog. Your dogs spend all of their lives to please you and they think you are their world. And you must provide them everything beneficial to them and this beautiful dog house is one of them. You can place this dog house in the room where you want to keep your dog. You can also place this beautiful dog house with rooftop in your backyard on a good sunny day where your dog will love to go in and out.
Dog Shampoo
While bathing your Groodle puppies, it is necessary to use a shampoo that is suitable for their type of skin and coat. Also, remember one thing that human shampoos or soaps are not suitable for dogs. Given below are the Oatmeal and Aloe Vera dog shampoo that is safe for dogs and also prevents fleas and other allergic infections. Other versions of this shampoo are also available for a plethora of other dog breeds that can be selected on the product page.
Puppy Food:
Can you feed your infants with the items that you eat? No, because the babies' have different needs and they can't eat such food. Likewise, the puppies can't eat regular dog food; therefore, you need specific food items for your Goldendoodle puppies. The puppy food should be soft and must be chewable for them. Also, puppy food contains more nutrients as compared to regular or adult dog food.
Given below is one of the best puppy foods and is rich in nutrients. The small-sized kibble is specially designed for puppies with small jaws.
Puppy Carrier
Vets suggest that the puppies should be socialized at an early age to avoid any behavior issues in adulthood. What is socialization? Taking your puppies outdoors, meeting with other people, dogs, and non-canine pets, and interaction with different things is called socialization. In order to carry your puppy outdoors, you MUST have a puppy carrier because the small puppies can't be walked on a leash. So, a portable puppy carrier or pet bag is highly recommended to carry your dogs.
There are several puppy carriers available in the market but we have chosen this one because of its design and fabric used in it. It is available in 2 different sizes and is easy to clean. It is a multi-dimensional carrier and can not only be hand-carried but also it is safe to keep in your car.
Puppy Toys:
A puppy is always keen to explore new things and needs some sort of engagement. A bored puppy is a disastrous puppy. So, to keep them engaged, try to distract them using squeaky toys, chew toys, and other enrichment activities. Also, the chew toys are necessary for your puppies for the development of their teeth.
The following puppy toys pack contains chew toys, squeaky toys, teething toys, and a flying disc. It is a 12-in-1 pack and a good product to keep your puppies distracted.
Wrapping it up:
So, these were the 9 essential products that you must include in your puppy kit. If you think we have missed any product, please let us know through the comment form below and we'll add that too as it will be a great help for us and other dog parents.