DogWatch vs Invisible Fence – Which one is the Best?
What is the difference between DogWatch and Invisible Fence?
My dog escapes more often, which hidden fence system should I install?
Are there any cheaper alternatives to DogWatch and Invisible Fence?
If you are looking for the answers to these questions, just stick to this detailed post. This post contains answers to all these questions and a bunch of others.
So, why do we even need a hidden fence system?
Dogs are excellent escape artists. Hounds, Terriers, and various other breeds are masters in escaping. No matter if you spend a lot of time and money fixing the escaping routes and installing the traditional wooden fences, they will find a loophole and escape like a champion.
If your dog has ever escaped or been misplaced, you know the pain of a lost dog. Some dogs come back after escaping your yard (thanks to lovely people around), but sometimes they meet an accident and may come back with a major or minor injury while chasing cars, which is painful for them and for us obviously. Sadly, many dogs don't even come back.
For a long time, engineers have been inventing different fences and tools to keep dogs from escaping yards. Some of these fences and tools worked efficiently on some dogs but many intelligent and smart dogs were able to find their way out of the yard, even if it's highly protected.
But thanks to science and technology, engineers have developed various equipment to protect our dogs and one of them is the hidden fencing system for dogs.
You may like reading about How to Care for a Brachycephalic Dog
What is the Hidden Fence?
A hidden fence is an underground wire cable fence that uses radio signals to keep your dog within the defined boundaries. With the passage of time, modified and customizable versions of hidden fences or invisible fences have made their entrance into the market.
2 such products DogWatch® and Invisible Fence® are among the most advanced and highly customizable hidden dog fences that come with lots of features that no other invisible fences offer. And that is why the dog parents are always confused between both of them while planning to install an invisible fence to their property.
Wondering what's the difference between DogWatch & Invisible Fence? Which one is the best for you? What are their pros and cons? This quick comparison between DogWatch and Invisible Fence will answer all your questions.
DogWatch vs. Invisible Fence Comparison and Product Review
DogWatch
DogWatch is a pet-friendly hidden fencing system that keeps your pets from being escaped. Different than other traditional hidden dog fences, DogWatch presents 3 different fencing systems. Keeping in mind the competition and safety of dogs, let's review the latest DogWatch hidden fencing system, i.e., SmartFence.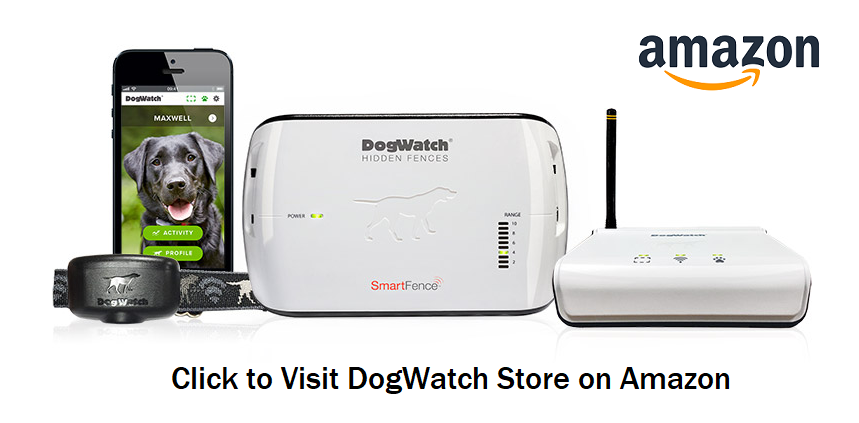 The SmartFence by DogWatch is an advanced underground fence that is equipped with FM radio technology and many other extraordinary features. It's reliable and very effective but may be costly for you.
DogWatch SmartFence Installation Cost:
The DogWatch SmartFence will cost you between $1500 and $2500 if you have one pet. For additional pets, you need to purchase more collars that cost you $399 each, as well as, various other products.
With time, you may also need to purchase lithium batteries, collar straps, wire repair kits, training flags, and various other products.
DogWatch SmartFence Features:
Safest radio system – Based on SafeLink FM technology, its radio signals cannot be interfered with by external or stray radio signals.
Best for training purposes – It comes with up to 20 advanced adjustable options that help you train your pets.
Signal range setting – The signal range is easily adjustable and you can choose different range settings depending on the size of your pets, i.e., the smaller range for small breeds like Chihuahua and the larger range for large-sized dogs such as the Great Dane.
Super-fast Reaction – The DogWatch SmartFence would react as soon as your pet approaches the defined boundary which means you'd be notified before it tries to cross the boundary wall. Along with that, your dog will also get a warning signal before it reaches the hidden wire.
Waterproof – The DogWatch receiver is tough enough to last against harsh weather conditions such as rain and snow, and rough play.
Various types of important alerts – The owner will be alerted when the boundary wire is disconnected, as well as, for battery replacement notifications, power loss, SmartCollar connectivity loss, and transmitter connectivity.
Activity tracking – The DogWatch SmartFence also lets you track your pet's activity whether it's active or resting.
Additionally, it comes with a lifetime warranty, the longest battery life, easy-to-use technology, and a 30-day money-back guarantee.
Invisible Fence:
Invisible Fence is a smart fencing system that provides your pet with much-needed safety and security. Invisible Fence does also have several solutions and the most advanced of all of them is the Boundary Plus Smart System.

It is an underground fencing system that could be installed in backyards or lawns of all sizes, from small to large. The best part of Invisible Fence is that it provides your dog with around 30% more yard space to run and play- thanks to its smart technology.
Invisible Fence Installation Cost:
On average, the invisible fence may cost you up to $1500. But if you are planning to get it installed on a larger property, it will cost you more. So, it is recommended to get a free consultation from a designated expert.
Additionally, you may also need to pay for batteries, if needed.
Invisible Fence Features:
Ideal for farmhouses and large properties – Invisible Fence is the best solution for larger properties that are over 5 acres in size.
Ideal for diverse landscapes – It's customizable and can be used on a variety of terrains including water. The best part is that it is easy to install and can be installed without digging.
Connectivity with your smartphone – The Invisible Fence Boundary Plus Smart System lets you connect to the fence via your smartphone and keeps you updated about the system status and battery level through your smartphone.
Zero interference – Their radio technology is smart and makes sure no external radio signals interfere with your invisible fence system.
DogWatch vs. Invisible Fence – Which one is the Best?
DogWatch SmartFence comes with lots of smart features including real-time activity tracking of your pets, signal range settings as per your requirements, and up to 20 adjustable training features. So we can say that the DogWatch is the best solution for smaller properties like homes with yards or backyards.
On the other side, the Invisible Fence Boundary Plus Smart System also has such smart features that make it one of the best hidden fencing systems. But as compared to DogWatch, Invisible Fence is the ideal solution for larger properties such as a farmhouse or any property larger than 5 acres.
Are there any cheaper hidden fence solutions?
Paying around $1500 or even more may not be affordable for some, especially if they have multiple pets, the price may go even higher. So, a relief of sigh for those as there are some low-cost options available, and the best of all is PetSafe Wireless Pet Fence.
PetSafe Wireless Pet Fence – A cheaper alternative
PetSafe Wireless Pet Fence Features:
PetSafe Wireless Pet Fence is yet another hidden fencing system for dogs that lets you keep an eye on your pets and can secure up to 4 acres of area.
This hidden fencing system is portable, waterproof, customizable, and lets you monitor your dog on an LCD display. You can add unlimited pets to this system but the receiver collar is mandatory for all pets. Petsafe Wireless Pet Fence system could be installed for under $500.
Check PetSafe Wireless Pet Fence prices on Amazon
Bottom Line:
If your pet is an escape artist and you live in a potentially dangerous neighborhood for pets, you MUST get a hidden fence system installed on your property- no matter what you choose. It's very important for your pet's safety and your peace of mind.
Recommended read – Hanging Tree Cowdog Facts