All About the US Presidents' Dogs [Full List]
Dogs have been an integral part of the White House since the arrival of the 2nd president of the US; John Adams. Although George Washington, the first US president had a special place for dogs in his heart, he never resided in the White House.
Many people talk about celebrity dogs and their names but we have planned to feature the dogs of the US presidents. Apart from pet dogs, the White House has hosted many weird pets such as alligators, tiger cubs, and a flock of sheep.
So, without further ado, we'll start with George Washington's dogs.
US Presidents' Dogs and their Names
George Washington – 50+ Dogs
The first US president, George Washington was a pure dog lover. In fact, he has been credited as the developer of a new Foxhound breed; American Foxhound. During his lifetime, he kept over 50 dogs at different times which included Newfoundlands, Dalmatians, Poodle, Briard, Basset Hound, Spaniels, Greyhounds, and Terriers. Also, he used to give unique names to his pups, such as Drunkard, Sweet Lips, Truelove, and Music, etc.
Read more about Poodle crosses: Bernedoodle | Saint Berdoodle | Shih Poo
John Adams – 2 Mixed-Breed Dogs
John Adams was the second American president and the first one to live in the White House. He and his wife loved to have dogs and they had several mixed-breed dogs. 2 of their dogs were named Juno and Satan.
Thomas Jefferson – Briard
The story of the third US president Thomas Jefferson and his opinion about the dogs is a bit weird. At first, he loved the dogs and in fact, he spent hours and walked for miles while looking for a pet dog. But later, his point of view terribly changed and he killed all of his dogs and his slaves' dogs too.
James Monroe – Spaniel and Siberian Husky
The fifth president of the US, James Monroe did not have a dog while he lived in the White House as the president. But his daughter possibly had a Spaniel named "Buddy" and a Siberian Husky named "Sebastian".
John Tyler – Irish Wolfhound
John Tyler was the 10th US president and among those who loved dogs. During his tenure, he had large-sized but non-aggressive Irish Wolfhounds that were imported from Ireland by the president who gifted them to his wife Julia. One of them was named Le Beau while the other's name is unknown.
Franklin Pierce – Japanese Chins
The 14th US president, Franklin Pierce had 7 teacup dogs. All of them were Japanese Chin which he received as a gift from Japan after signing a treaty. He later gifted one of these 7 Japanese Chins to Secretary Davis.
James Buchanan – Newfoundland Dog
James Buchanan was the 15th president of the US. He possibly had a Newfoundland dog named Lara.
Abraham Lincoln – Mixed-Breed Dog
Abraham Lincoln, the 16th US president was more than a traditional president as he was involved in several revolutionary events in the US that is why he is more considered as a leader. He had a mixed-breed dog named Fido. Unfortunately, Fido never made it to the White House because when Abraham Lincoln was moving to the presidential palace, he thought that Fido may suffer because of his tough routine. So, he found another loving family for him and Fido spent the rest of his life with them until he was killed by a drunkard one day.
Read: Interesting Dog Facts
Ulysses S. Grant – Newfoundland and an Unknown Breed
The 18th president of the US, Ulysses S. Grant was also a pet lover and had horses in the White House. But his other family members had 2 dogs that stayed with them in the presidential palace. One of them was a Newfoundland while the other's breed is unknown. The Newfoundland Dog was named Faithful and the other dog was named Rosie.
Rutherford B. Hayes – Lots of Dogs
Rutherford not only had dogs but various other pets as the Hayes were true animal lovers. They had an English Mastiff along with 7 other dogs, 3 cats, 3 Canaries, a mockingbird, a goat, and several cows.
James Garfield – Newfoundland Dog
James Garfield who was the 20th American president had an all-black Newfoundland dog, named Veto. Along with James Garfield, 3 other presidents had Newfoundland dogs who lived in the White House with them.
Grover Cleveland – St. Bernard, Cocker Spaniel, Collie, Foxhounds, and Dachshunds
Grover Cleveland is the only president of the US who was elected twice for non-consecutive terms. Apart from this fact, he was a great pet lover and he had lots of pets including dogs, chickens, ponies, chickens, and hundreds of imported fish.
Benjamin Harrison – Collie Mix and Siberian Bloodhound
Benjamin Harrison was the 23rd US president and he and his family were great lovers of animals. They had a Collie mix named Dash and a Siberian Bloodhound whose name is unknown. Along with these dogs, they also had a few other dogs.
You may like reading: Chaser, the Border Collie
Theodore Roosevelt – Bull Terrier
Theodore Roosevelt had a Bull Terrier that was popular around the US for its aggressive behavior. The Bull Terrier named Pete killed several squirrels and bit various ministers and naval officers while in the White House. Unfortunately, on a bad day, Pete bit the French Ambassador that resulted in Pete's expulsion from the White House.
William H. Taft – Unknown Dog
William Taft was more passionate about cows than dogs. Of the cows, Mooly Wooly was the popular one while there are not many details found about the dog.
Woodrow Wilson – Airedale Terrier, Greyhound, and Bull Terrier
Woodrow Wilson took the charge of the office in 1913 and was re-elected in 1916. He was the US president during the entire World War I. He was a car enthusiast, as well as, a great pet lover and he had 3 dogs, a cat, an Old Ike, several sheep, and songbirds.
Warren Harding – Airedale Terrier and Bulldog
Warren Harding, the 29th US president was also among the animal lovers and he used to visit animal welfare societies. He had an Airedale Terrier named Laddie Boy and a bulldog named Old Boy. Both of his dogs were popular and had been seen in the halls of the White House playing together.
Calvin Coolidge – A Plethora of Dogs
Calvin Coolidge was among the most popular presidents of the US. He had a good reputation as a county lawyer before he was elected as the US president. During his tenure, he had around a dozen dogs including Collies, Chows, Shetland Sheepdog, German Shepherd, and others. He also had canaries, goose, donkey, lion cubs, and many pets.
Herbert Hoover – German and Belgian Shepherd
It is widely said that a photo of Herbert Hoover holding his Belgian Shepherd's paws circulated right before the presidential elections and people had gone nuts. They elected him as the 31st US president although he wasn't much popular. But this dog photo trick worked well. BTW, the Belgian Sheperd was named King Tut.
Franklin D. Roosevelt – Scottish Terriers, German Shepherd, and others
Roosevelt's Scottish Terrier Fala is among the most popular presidential pets of all time. Along with Fala, Roosevelt had many other dogs but he was in love with Fala and in fact, Fala traveled with the president too many places and events.
Harry S. Truman – An Unwanted Cocker Spaniel
Harry Truman, the 33rd president of the US wasn't a fan of dogs. While he was in office, a woman sent her a Cocker Spaniel puppy who was named Feller but Truman gave away the puppy to his physician. As a result, thousands of dog lovers across the US were angered and sent letters to the president asking for the reason.
Dwight D. Eisenhower – Weimaraner
Eisenhower had a female Weimaraner named Heidi. Heidi was unfortunately banned from the White House after she had an accident on a rug worth $20,000 ($160k nowadays). After this costly accident, Eisenhower sent her back to his family farm in Pennsylvania.
John F. Kennedy – A Plethora of Dogs and other Pets
JFK was undoubtedly one of the most popular presidents in the US. He was a true animal lover and he had several dogs including an Irish Wolfhound, French Poodle, Welsh Terrier, a mutt, and a few others. He also had ponies, parakeets, hamsters, a cat, a canary, and a rabbit.
Lyndon B. Johnson – Beagles
Lyndon Johnson had 2 Beagles named Him and Her, both were from the same litter. Both of the Beagles were among the national celebrities of their time. Along with Beagles, they also had a Collie and a mutt. When this picture of the president lifting the dog with the ears was published, the people had shown their anger towards him but according to Lyndon Johnson, his dogs loved to be lifted with ears.
Richard Nixon – Poodle, Terrier, and Irish Setter
Apart from all the controversies about Richard Nixon, he was a great pet lover and he had four dogs. One of them was with him when he was the vice-president, while the rest remained with him during his tenure in the White House.
Gerald Ford – Golden Retriever
Liberty, the Golden Retriever was the one who healed the nation's wounds after Richard Nixon's Watergate Scandal. He was given to the president by his daughter. Later, Ford's family decide to breed liberty who then gave birth to nine adorable puppies and became a national celebrity.
Looking for dog names? Check Rottweiler Names | Golden Retriever Names | Bernedoodle Names
Jimmy Carter – Border Collie Mix
Jimmy Carter did not have any dogs. His daughter's teacher had given her a Border Collie mix that was born on the day when Jimmy won the presidential election. She named her Grits but later, she gave Grits back to her teacher who was looking for a dog after her own dog has died.
Ronald Reagan – Bouvier des Flandres
Ronald Reagan was the 40th US president and is one of the most influential presidents of all time. He had a Bouvier des Flandres named Lucky who used to travel with the president and had several trips to Camp David on the president's Helicopter. Lucky was sent to California and the president along with her wife used to visit her often.
George H W Bush – English Springer Spaniels
Millie, the English Springer Spaniel was one of the most popular presidential pets. Did you know that Millie wrote a book "Millie's Book: As Dictated to Barbara Bush". President Bush often mentioned her during his speeches while he campaigning for re-election. Later, Millie's puppy Ranger become popular and the president's favorite.
Bill Clinton – Labrador Retriever
Bill Clinton was among the true dog lovers and had a chocolate-colored Labrador Retriever named Buddy. He did not have any dog in his first term but he got a puppy in December 1997. The president also had a cat named Socks who lived in the White House with them. In 2002, Buddy died in a car accident while he was playing in the street in Chappaqua, New York.
George W. Bush – Scottish Terriers and English Springer Spaniel
Like his father George HW Bush, George W Bush was also a dog lover and had 3 dogs along with a cat and a longhorn cow. Interestingly, his English Springer Spaniel named Spot was an offspring of his father's dog Millie.
Barack Obama – Portuguese Water Dogs
Barack Obama who was the 44th president of the US had 2 Portuguese Water Dogs named Bo and Sunny. Both of his dogs were very popular and met several celebrities including Pop Francis in 2015.
Joe Biden – 2 German Shepherds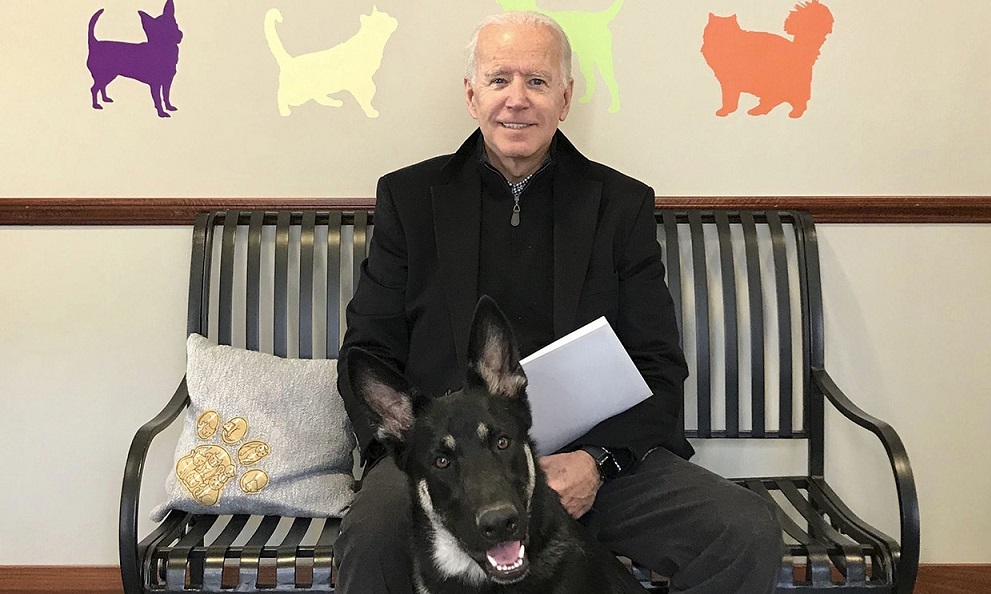 Joe Biden had won the last election and joined the office in January 2021. He has 2 German Shepherd dogs (named Champ & Major) and one of them was an adopted dog. Sadly, "Champ" crossed the Rainbow Bridge in June 2021 while "Major" was sent to Wilmington after he showed aggressive behavior.
On December 21, 2021, the White House welcomed another dog "Commander" who is a pure German Shepherd and was born in September 2021.
Wrapping it up:
So, it was all about the presidential dogs from the very first US president up to the 44th president of the US; Barack Obama. We can say that most of the US presidents were great dog lovers of their times.
Read: Top Mastiff Breeds | Can Dogs See Ghosts? | Dogs Destructive Chewing